News
Site Rebuild On The Way
This site is about to undergo a major rebuild. We are no longer gigging (we had decided that
before
the pandemic!) and we'll be putting lots of downloadable material here, and taking off some of the promotional stuff.
No More Song Gigs
As above... at the start of 2020, we decided not to take any more song bookings. We were definitely intending to continue playing ceilidhs, either as the duo
Four Hand Band
or in our new trio
Barley Cote Band
with Chris Partington on fiddle, but of course the pandemic put a stop to that.
Music On Line
We planned to put lots of performances of songs and tunes on YouTube, and have indeed done so. Anahata's YouTube channel now has over 250 videos on it and 1800 subscribers, which is nice though it's nothing compared with some YouTube channels!
We're also going to put downloadable material on this site. Possibly sound recordings, maybe a catalogue of YouTube videos, and definitely ABC and PDF files of tune arrangements, some of which Anahata has also been publishing in the quarterly TykesStirrings Yorkshire folk magazine.
A Busy August
We went to the Mill Race Festival of Traditional Music in Cambridge, Ontario again, and the following Saturday went to Port Dover on the North Shore of Lake Erie where local musician Ian Bell has invited us to take part in a concert to commemorate Barclay's Ball - an odd episode in Canadian history in 1813 where they suffered a military defeat by America because the generals were all away at a big party. There was a concert in the afternoon, where we played songs and tunes from England around the same period (Napoleonic wars), and local band Muddy York played more local material. In the evening we had a song swap followed by a contra dance, where we joined Muddy York as a big band.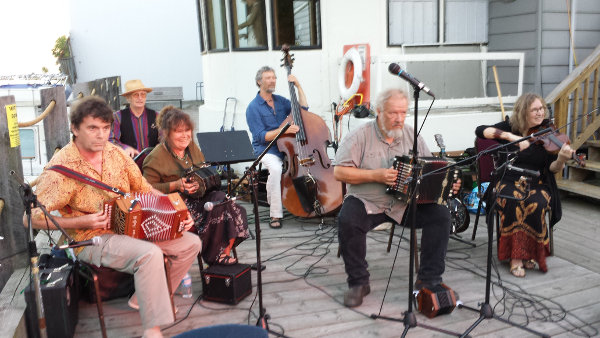 The Band. Front: Anahata, Mary, Ian Bell, Anne Lederman
Back: Tom Leighton, Jeff Bird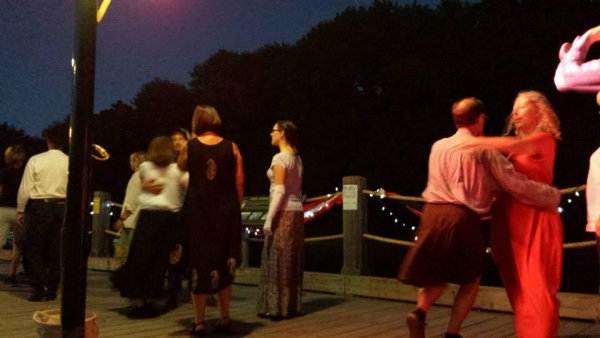 The Dancers. Behind is the river flowing into Lake Erie
A week later we were at Whitby Folk Week, where amongst other things we played the Monday evening dance/ceilidh with
English Rebellion
. Returning on Thursday were were at
Folk East
on Friday, Saturday and Sunday, squeezing in evening ceilidhs elsewhere with Fendragon on both Saturday and Sunday nights. Both festivals featured several songspots and a workshop or two in our schedule.